ORIGINAL TOP RATED | "BEST BEACH YOGA iN WAIKIKI & san diego" ​


waikiki beach yoga

Group Beach Yoga classes twice a day, Private beach yoga in secluded raw nature throughout Oahu ​

jungle yoga hikes oahu

Waterfall hikes with - mindful exploration in off-beaten paths local hidden gems

san diego beach yoga

Private Beach Yoga - premium curated
Wellness Excursions/Hikes,
Evidence based Mindfulness courses
LONGEST ESTABLISHED | HIGHEST RATED

local female owned FOUNDER
​
​ India trained founder and team
---
We are a premium level outdoor "studio" with a team of long term experienced teachers honed by India trained founder towards authenticity and mindful connection to nature.

We specialize in highly curated premium experiences, utilizing yoga in off beaten rugged paths of wild nature to bring people towards mindfulness.

​
* Over 600 Five star reviews ★★★★★ across TripAdvisor, Yelp etc ...will assure your Hawaii yoga in nature experience will be optimally impactful as a lasting one within.

​


Planting seeds of mindfulness, through yoga and nature, has always been our north star....
and the community of heart did follow

our mission WITH
​ athena medical foundation
Yoga on the beach with the largest, longest-running grassroots community of nature loving travelers and locals. Founded by Karen Le, off-beaten-path explorer who, left her legal job, to live in India and train in Yoga and Meditation in the home town of the Dalia Lama; and further trained at the University of California San Diego medical center in Science-based Mindfulness; Beach Sunset Yoga became a premiere team of authentic teachers and experts with years of dedicated focus, providing all levels of mixed classes outdoors. This Hawaii law grad and political science major built Beach|Sunset Yoga Hawaii on a mission to connect people to nature and themselves through the practice of yoga and mindfulness. From the most exotic places in the world, Karen brings authentic yoga to the beaches of Waikiki and San Diego.
our Style : mindful flows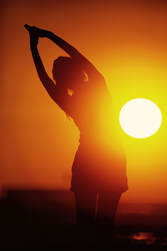 ​FOCUSED FLOW INTO STILLNESS​ - We achieve ​mindful connections through yoga flows.
​
India Trained Ashtanga base flows with Mindful Holds. With the land beneath, the ocean in front, and the beautiful sky and birds above, you will deeply tune into Hawaii, moving in meditation that leaves a lasting impression.

​You will know our island, Aloha, breath of life, and authentic spirit, moving from dynamic powerful or slower flows to relaxing mindful holds. Whether experienced or discovering yoga for the first time, all are welcome to come feel yoga in nature and find yourself.
---