JUNGLE YOGA HIKE - to secluded waterfall rustic areas
with integrated jungle yoga / meditation options
perfect if brand new yoga & all levels
its really about the mindful exploration of off beaten paths - a retreat day in wild nature
​ an soul enriching authentic experience with hawaii's land and culture
a serene yet invigorating retreat day exploring the hidden eco and cultural offerings of
jungles | valleys | waterfalls | sacred ruins
....to see and feel the real hawaii - reconnect with raw earth - escape the mass crowds and commercialism
way better than any overpacked developed tourist main path waterfall like manoa or waimea
these are where our adventerous locals choose to play and relax in serenity and peace
​ 5 star rated experience - Tripadvisor "highlight of our trip"
" once in a lifetime experience" "best thing we did in hawaii"
"most unique hawaii experience"
"the best places we saw in hawaii and we would never found them on our own"

​

---


​*all activities that day on hike retreat will be offered in small parts per groups interest intergrated with exploration of the areas nature, hidden flaural, fuana...
wonderful for all levels, including first timers to hiking and yoga

---

---






---

Retreat into the Wild Jungles of Hawaii
Explore Hawaii's most valued pristine sacred places
...where no other group tours take the trouble to bring people...our most precious areas
​ where non locals would never find otherwise


tree climbing/ yoga/ meditation/swimming - all optional
in the jungle and valley and waterfalls

A Serene yet invigorating explorational hike/tour to bring you back to the wonders inherent in raw nature; integrating optional evidence based mindfulness and/or yoga / swimming in optional small parts - perfect for folks brand new to yoga/hiking.... we head to peaks of valleys, pristine cascading waterfall streams, sacred ruins and jungles. A 5 star experience on TripAdvisor.



Intimate Small Exclusive Groups

Our groups are semi private usually 3-14 people for an intimate peaceful feel, whereas regular tours run up to 50 people at times and bring you to just places closest to roads with tons of other buses, just for a few minutes of photos, so you never get to see the best of real Hawaii. This is a big issue for the locals.....of the over commercialization of Hawaii.

Breakdown of Yoga/Hiking etc - All small parts

The Yoga/Mindfulness practices portion is broken down in 2-3 small parts, or not at all per groups interests, in between hiking. The hike has just enough yoga and meditation per the groups interest to get you into focus as it follows the morning beach yoga session. Perfect for first timers as well as experienced. Our other time is spent at our options... relaxing, climbing and exploring streamside at a secluded waterfall, exploring hidden nature and areas deemed the most stunning of our cultural/natural treasures that most tourist and even locals do not know about, climbing trees and generally zen'ing out. Everything is optional...our primary focus is on mindfulness within nature and culture.

NO MUDD PLEASE:

If you would prefer an experience that isn't muddy or much risk for mosquito, or if you have a current weakness in your ankles or knees, come join

our Wellness Retreat Tour around secluded beaches and cliffs! Experience the more intimate and calming way to see the best attractions of Daimond Head, Koko Crater, Manoa Falls, Makapu'u lighthouse....as we escape the crowds and go into the more secret areas of these attractions and many other local favorites also on our Hidden Island Wellness Tours.

---

Most Beautiful Waterfall Places only local explorers know of
This is not an experience catered to sell to every tourist, it is designed specifically for real nature lovers, to come back and feel one with the earth, wild fruits, flora, fauna and jagged lush mountains. We created this tour to take people to the best most stunning natural places, most beloved by locals, where no tourist would likely find on their own, and no tour buses have access to or would want to as they cater to selling to the largest group possible.

Because our focus is mindfulness and real nature, we take you beyond the paved gardens and developed over crowded waterfalls (like manoa, waimea, daimond head) that all other group tours go to; we bring you instead into dirt paths...which may be muddy, mystical seclusion within nature, and pristine waters not roped off, which you can actually touch and be within.

It is our endeavor's conviction to show you the beauty and value in genuine nature. What locals see as the real Hawaii. No other groups tours on this island currently take you to these types of off beaten path and secluded hidden unpaved places, the best and favorite places for locals and where hikers explore, not even the group eco-tours, as our specialization is to focus on intimate real natural experiences.
Other tours may say this, but our reviews establish our reputation which we must rely on...see how our claims are accurate.
Price and Booking
Hidden Waterfall Mindful Hike
4.5 hours $88
(includes an optional morning beach yoga session beforehand for those who are high energy and add an hour for transport) (otherwise you can do the beach yoga another day)
(the hike is a total of about 2-3 miles- mindfully exploring all the wonders and adventure hidden in the jungle areas
*w/ a short silent or guided meditation by waterfall)
(*any yoga or further meditations are guided within the jungle in small parts when the groups energy dictates that would be helpful to enter the mindful state we encourage)
- Hike usually follows 9 am full beach yoga class on mon, tues, sun but we are able to accomodate different dates upon request

write us to inquire about private hikes and wellness exploration tours around the island


if you dont see a date you can join-

its because 3 people have not booked but there may be requests for other dates

so please

email us toREQUEST a different date if theres not one on calendar











​





Private tour customizable

great for families (esp with small children/elderly) groups - or if you want to customize somehow- maybe add some ocean/cliff/tidepool experiences

-

see wellness tour

for more ideas and options

Private Customized Tour Price $325

(includes up to 3 people, then group rate for each additonal person

private yoga sessions offer more time for specialized posture adjustments, as well as time catered exclusively to your group.; highly recomended for families with young c children or people who may need special assistance and slow or fast paceCorporate Wellness

​

large groups please inquire

we have worked with many companiese from hawaii and those travelig here on convention/team building retreats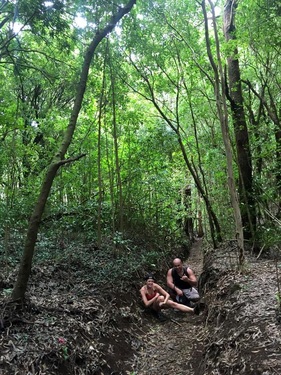 - Invigorating and serene; adventurous and meditative;
come back to oneness with nature
Locations
near the Pali areas of the winward east side near Kailua- we have 3 paths and 3 waterfalls to choose from, all far better, more intimate and more stunning than the tourist bus packed Manoa or Waimea Falls- upon request we can go to Manoa Falls, but we prefer to show people more hidden secluded local favorite places where you can actually get into the water (& far from commercialization
---



Hike accessibility:
(Let us know your mood if you need something particular so we can try to get you with similar types in group)

Serene yet Invigorating in Rugged Landscapes
This tour is specially designed for those who seek to be in real nature and don't mind possibly getting their hands and shoes muddy holding on to branches, esp if it rains etc.

A serene relaxing hike in rustic dirt paths. This is an invigorating experience if you love to connect with nature and water; and we visit cool trees to optionally climb onto also.

Accessibility and technical details of hike path
Relaxing, Serene and Invigorating but also dirty, and muddy on the shoes, and clothes a bit.
You need regular healthy ankles and knees for traversing falling trees, roots and muddy, sometimes little dirt slightly slippery slopes--- and for the longer hike day---- narrow tall steps - there are no high scary dangerous fall areas. the full day is about 2-5 miles walking max with lots of rest time in between. No one has ever been too tired to go on or even close.
Suitable generally for all with regularly healthy ankles/knees in case of slipping. Most of all - you will need to not be afraid to hold on to branches that may have some wet dirt on it if needed- and be able to smile off any small slips where your clothes might get a bit muddy or wet etc. (i think only very few of people have ever slipped in dirt - but it can happen to the best of us : ))- for those that like rugged feel of holding and hopping over fallen tree branches etc, on muddier days there can be more of this feel and....it is quite fun.

Please come with a relaxed flexible mind - trusting our well learned experience backed by our amazing reviews- for the optimally positive experience for you and all
its our mission to be able to bring you to real nature, but because its real nature, its more difficult to make things as perfectly predictable/ manageable as if we just brought people to a botanical garden or tourist resort place... thus we cant control for all things, such as rain - occasional closures etc.) see below for pictures and more details on accessibility
Every tour is really honed to read the groups energy as we strive for the most suitable day with nice surprises when we can - if we promise a certain area and itinerary and we stick to it regardless of the crowds or water flow that day etc. like the mass tours do...we know you will not have the best options open for you. just read our overwhelmingly amazing reviews so you can feel comfortable to just trust our decisions for the day as we have lots of experience and desire in creating a day you would enjoy the most.


this may happen if it rains, sometimes cleaner, sometimes muddier...but rinsing it off with water after takes it all off easily : ))

---
---
Prefer not to get muddy?

Venture to hidden cliffs /ridges/ deep tidepools i

n our hidden beaches in our wellness sightseeing tour
I​​​
---