FOUNDER: (classes are taught by various instructors all trained under our style, our mindful purpose and mission)
Karen Lei - free spirited adventurous rebel with great meta causes

Karen, as founder, provides the training and vision for this yoga in nature endeavor whose mission is to plant seeds of mindfulness to the general population. Karen also serves as Executive Director for Athena Medical Foundation, a non-profit 501c3 organization that offers Mindfulness Based Stress Reduction (MBSR) courses as integrated medicine low income patients of Athena Medical clinics. She was raised in Hawaii and has moved back to Oahu after teaching throughout Southeast Asia. She left her American corporate law firm position to discover unpaved paths globally and explore other cultures perspectives.
She is a graduate of the University of Hawaii's Law School and Political Science Masters Program. She has a professional background in non-profit community development, social justice policy, and in progressive alternative teaching methods.
A true explorer and wisdom seeker at heart, Karen did 2 graduate summers in Rome, a semester in Puerto Rico and an international law program in Singapore. A believer in obtaining solid education at its source, she pursued her yoga training in India, and her meditation training in the home town of the Dalai Lama. With a true backpacker's spirit, Karen believes in seeking authenticity in all things and places so had to be very resourceful in her explorational and educational travels of over 50 countries.
Karen was baptized Catholic and grew up in an eventual Buddhist home. She is now a believer of being open to all things solidly demonstrated in science, philosophy and experiences of spirituality. As an avid practitioner of meditation and Buddhist dharma, from both a secular and a spiritual level, she passionately is convinced of its ability, outside of general good health, to make people truly happy, mentally well and compassionately more aware, even just on a secular basis. She believes it holds the key to many, if not all, individual and society issues at large, and sees hope in that people of many different religious beliefs have also found its universal principals and practices so useful in their lives. Through these practices, she sees a way to increase peace internally and within the world at large. These practices that are backed up now by 30 years of evidence from scientific studies by neurologist and psychologist. She believes firmly these practices and philosophies for living hold the answer to lasting happiness and well being, the true revolutionary paradigm shift in how we currently live constricted by our harmful thoughts- she has felt and sees daily this shift within herself and wants nothing more than to be able to share this to help others. Thus, it is now her career path and mission in life- to spread seeds of mindfulness.....to contribute to the cultivation of greater compassion and peace on whatever level she can, to the best of her ability.
---
Yoga Posture studies and specializations
Aryan Yoga Center, Dharmasala India
In proper Yoga study traditions, as with many studies, authenticity and accuracy concerns from India required that a teacher from its origins (India) hand down the teachings directly to their students, and then continuing the lineage of students so that the teachings would not be diluted with inaccuracies. Respecting this, Karen wanted to ensure she learned and pass on the teachings demonstrated effective for thousands of years as they properly should be learned. So out of respect, and to transfer the original teachings,.....off to India she went. She received her RYT 200 Ashtanga and Hatha teaching certification from Aryan Yoga & Reiki Centre in McLeod Ganj, India, the most auspicious precious town located in the foothills of the Himalayas and home to the current exiled Dalai Lama and Tibetan government. Undamaged by any mass commercialism, this town was like stepping back into time.....into the heart beat of daily spirituality. Her specialized training course only had 3 people, so it was like having private training and adjustments the entire time. Thus Karen was able to become very honed in providing adjustments, a necessary, and yet rare component in many other trainings in the West which are often very over crowded. This makes for the experience and training needed to be what they ought to in terms of advancement and learning for the student, especially for giving private lessons.
Her intensive training stressed Ashtanga's underscoring of evidence based practices for health and alignment, postures maximizing blood circulation flow, and breath coordination over simply just flexibility in order to ensure long term physical health, strength, and effective internal focus.

Advance Ashtanga training with David Swenson and Style
Continuing her training and instructions given to learn from someone in India or one who was training by someone in India, she constantly while teaching, Karen subsequently completed an advance training course with David Swenson, who is considered leading modern authority in ashtanga; and who trained directly for decades under Pahtabi Jois, founder of Ashtanga yoga, the first and original system of codified yoga postures as we know today, and the 8 limbed yoga system based out of Patanjalis Ygoa Sutras, wherein the postures are only one of the 8 components in yoga goals and benefits. Karen teaches Ashtanga based Vinyasa Flow, which can be more dynamic or more relaxing according to the needs of the students. She loves Ashtanga's ability to mindfully control and rise to physically steadfast levels through focus, alignment and balance, as with martial arts practices.; and also its focus on stillness and simplicity of cues for learning absorption and meditational benefits. As a jazz and Polynesian dancer growing up, Karen is naturally engaged by the Vinyasa flow style, where rhythmic music and continuity immerse you in feeling of energized clarity and full involvement, all the while developing your flexibility, strength and control of energy. Due to the influence of her background in dance, she incorporates a subtle dimension of fortified grace to the postures.
Yoga as the bridge to Mindfulness Mediation | Dharma

Meditation Training- Mindfulness / Zen in Tibetan region of India
While in Indian mountains, she spent time in Buddhist meditation retreats where she went without speaking for the duration of weeks. A practice of patience and insight that really allowed for the experience of recognizing ones true core. While in the Himalayas, she volunteered teaching English to Tibetan monks and their community, and was blessed to be able to sit in on several teachings from the Dalai Lama. That is where she began exploring deeply the Buddhist traditions of mindfulness, insight and analytical meditation; a linage of practices that are now being adopted by the West in all areas from modern psychology to medicine, to training in our governments.

She was shifted intensely inside and her path has gradually, with experience, sharpened to a single trajectory towards spreading mindfulness and dharma. In adherence to her background in law and community development, she is very interested in the integration of yoga and meditation as public health initiatives; and as public education programs that rise social consciousness for children and the public at large. She sees yoga as the bridge to bringing people to more philosophically substantial practices and thus teaching yoga came right in line with those life missions.

​She also received training in Indian and Tibetan Ayurvedic healing, an alternative practice that has many components which recorded positive results for over 4000 years longer than western medicine, spirituality, and which generally sees the food you eat as the equivalent of medicine.





Mindfulness Mediation (MBSR) certification from the University of California San Diego
Seeing Yoga as the bridge into mediation and Dharma ( life philosophy of higher consciousness) , Karen focuses on teaching mediation and dharma from a secular perspective, allowing individuals to embrace their own explored or developed spirituality. Western Science's research into the area of mindfulness has been ongoing for the last 30 years, and so much excitement abounds as evidence is indicating just how interdependent our minds are to our bodies; and also how much we still do not have answers to. Ironically, science is "catching up" to embracing thousand year old practices and philosophies from particularly Buddhist traditions, as its practices can be so secular and academic
in nature at its base stages.

Along with her own personal meditation and sanga (group) practices, Karen has been trained to teach MBSR (Mindfulness Based Stress Reduction
program by the University of California San Diego (the most highly regarded evidence based meditation program that exists and which is considered integrated within medicine now), as well as childrens' mindfulness curriculum with Mission Be, a non-profit organization. She hopes to bring these evidence based curriculum of mediation (derived from a secular take on Buddhism) into schools, hospitals, and companies. This is her life's dream and mission. This is the mission for the beach yoga and the yoga in the wild endevours land retreats, and the mindfulness 8 week courses she teaches in schools, hospitals and companies.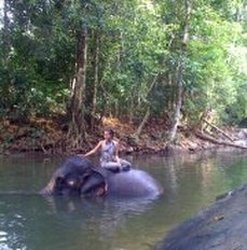 On Karma.
Incorporating these philosophies recognizes that the surroundings you choose for your life, your perceptions of things that occur, and what you put into your body are all inter-dependent and will be realized in your mental and physical health; that they all work to create your future environment and its occurrences. Karen continues her studies of Buddhism's philosophies for living, finding them profoundly useful for living well and meaningfully, whether or not one subscribes to Buddhism spiritually.



---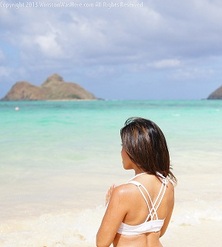 Missions
With Karen's dedication for wanting to make a difference within communities and for art and ease in life, and her varying love of so many of life's beautiful ways to increase those things, she has realized her dream of creating her comfortable niche within yoga and non-profit community development work. Having lived and traveled within 4 continents of Europe, Asia, and North and South America, she carries the diversity of those art, engineering and cultural influences to every step, breath and vision in her day.

She is a lover of wisdom and philosophy, animals and rugged nature, a devoted academic, and one very open to spirituality. An island girl at heart with a global mindset, she believes in the religion of kindness, and adheres to the ideals that Zen teaches; that only compassion, kindness and our connections with each other will lead us to lasting happiness in our own lives. Karen studied law not to execute it in job but rather to use it as a means to contribute to a meaningful difference in the world; to deal with with policy and social justice issues for those that need help with resources most. She wanted to study law to navigate the law for herself and others, and at times to help effect changes within laws. Through yoga and social activism, she feels incredibly blessed to be able to answer to her higher calling, to devote her life to the development of greater consciousness and compassion for herself and others...to spread ease, tranquility and... shanti~

After her advance level training in mindfulness meditation at the University of California San Diego is completed and her work teaching the curriculum in schools/hospitals lends to furtherance, she hopes to build this endeavor into a non profit after school children's program incorporating mindfulness teachings of yoga, meditation, and fun with nature and animals.... All with the goals of cultivating higher consciousness and compassion in the we we all deal with life and one another. Yoga in its true form, after all...is the bridge towards these higher aims.




---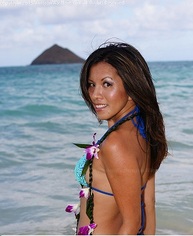 | | |
| --- | --- |
| INSTRUCTORS - All of our instructors are carefully and rigorously selected and trained in the company style, mission and philosophies. Read about them on the schedule of their classes. | San Diego beach yoga location also!!! Karen calls 2 places physical home- Hawaii and San Diego. and offers Private Yoga and Group Yoga sessions and retreats in both places. |
---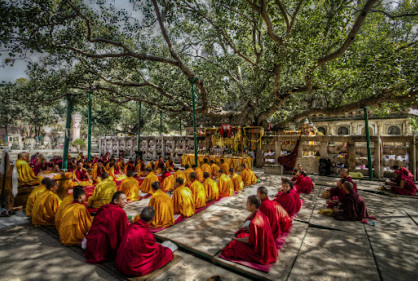 Sleeping under The Tree of Enlightenment
What Good Karma!
While visiting Bodgaya, India, the home of the Bodhi Tree where it is deemed that the Buddha sat for a long long time and gained enlightenment, Karen stumbled upon the most blessed of luck: the tree is on temple grounds which are open to public visits in the day time but only open to monks at night time. While there, she and her cousin met a monk who invited them to sleep overnight in a mosquito net right next to the sacred Bodhi tree. Each time she woke up in the middle of the night, all she saw were monks still sitting upright in meditation. She was given several dried leaves from this blessed tree to take home.


fun fact: feb 15 is nirvana day - the day the buddha is deemed to have gained enlightenment
- it is also Karen's birthday : )
---